Dedicating this site to the fittest, fastest rising, most successful Hong Kong, American born Chinese actor ever.
---
---
Daniel's Profile
English name: Daniel Wu
Chinese name: Cantonese pronunciation: Ng Yeen Joe
Mandarin pronunciation: Wu Yen Ju
Born: 30th September 1974
That makes him:
Chinese Zodiac: Tiger, which means he is sensitive, emotional, and capable of great love. However, he has a tendency to get carried away and be stubborn about what he thinks is right; often seen as a "Hothead" or rebel. His sign shows he would be excellent as a boss, explorer and race car driver.
Horoscope: Libra
Birthplace: San Francisco, California, U.S.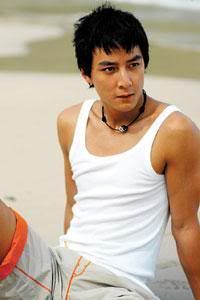 Currently lives in: HK
Nationality: 100% Shanghainese (his mother and father are both from Shanghai)
Languages: English (with a sweet American accent), Mandarin, (wow how did he get it so good when he was in USA?),Cantonese and even Shanghainese!
Current Status: TAKEN damn it, he's with his model girlfriend, Lisa Selesner
Measurements:
Chest: 39"
Waist: 30"
Hips: 36"
Height: 6'1"/185cm
Weight: 160lbs (although it changes often)
Shoe size: 10(US)
Education : University of Oregon where he received a BA in Architecture and a minor in Art History (he graduated in 1997). He also started the University of Oregon Wushu Team! (Wow so talented and determined already!)
Family members : dad, mom and two elder sisters
Hobbies: Kung Fu, Photography, Travelling
Favourite movies: God Father, Pulp Fiction, Citizen Kane
Favourite Foods: Japanese, Italian, Chinese,
Favourite country: Japan
Style of dress: Casual, comfortable (but how does he manage to look so fit in everything??)
Favourite Sports: swimming, gym, racing cars, boxing
Ambitions: To be a successful actor, and a successful director. He hopes to be able to direct his very own movie in the next ten years, and become a creative director
contact address:
JC Group
c/o Daniel Wu
145 Waterloo Road
Kowloon Tong
Hong Kong
Send him a self addressed envelope, a lil' personal message from you and they do send you a photo of Daniel with his signature on it!! I got mine (it took about a month and a half but well worth the wait!!):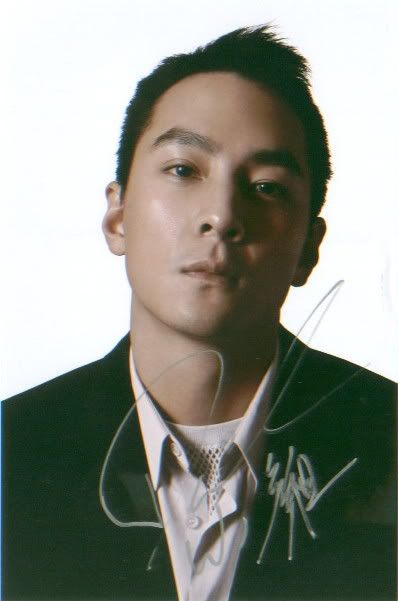 WOW how hot!!!
OR
You could always sign up to receive his newsletter which WAS usually written by him from time to time, but now he blogs on his band site AliveNotDead.com!